Welcome to TRL, our free weekly offseason newsletter about things to watch, eat, drink, or otherwise consume. This week's edition focuses on a race, a song, and a snack that should probably be considered a controlled substance. Thank you for subscribing. Please send us the pretzels of doom immediately.
WATCH: THE MIAMI GRAND PRIX, SUNDAY LIVE AT 3:30 PM ET ON ESPN. First a confession: This is a plug with a plug contained inside it, because I will be doing a pre-race show with Gary Striewski and Katie George on ESPN's Youtube channel at 2:30 pm ET.
You should watch that, too, of course, because we'll
a.) Set you up to enjoy the race even if you know nothing about Formula One, and
b.) It's in Miami, so I'll be wearing white pants and a beautiful shirt LIKE THE PROUD BEAUTIFUL PEACOCK PRINCESS I AM
c.) There's a pool by the track, and I guarantee it and the other VIP areas will be filled with at least ten people who, by appearing on camera, will trigger facial recognition technology at INTERPOL, where they are wanted for multiple international financial crimes across multiple countries. This is not a joke, and never is. Someone attending this race is committing heinous fraud as we speak, and finding out who is just a matter of waiting them out.
But if you just want a reason to watch the race right here, well, here's the very unique situation we have here. Red Bull Racing's two cars both smoke anything else on the track. Ostensibly, the lead driver is Max Verstappen, the 2022 Driver's Champion. He's demanding, sensitive as a chafed dick in wool drawers, and currently leads the driver's points race by six points.
The second place driver is his teammate, Sergio "Checo" Perez. Unlike Max, everyone loves him, especially Mexican fans who ride for their fellow countryman like every race is a World Cup group match. A month ago in the young season, Perez played second fiddle to Verstappen dutifully, working to pull Red Bull away with ease from Mercedes (whose engineers missed badly on their slow-ass car in the design phase before the season ever started) and Ferrari (beautiful Italians whose price for being the most elegant and storied racing team is a constant low level of glamorous dysfunction.)
And yet, something funny happened over the last couple of races: Checo started catching up to Max. First, he won the Saudi GP. Then Perez pulled very close to Verstappen in the standings by taking first in the Azerbaijan Grand Prix when Verstappen got mildly screwed by a combination pit stop/yellow flag situation.
Perez only six points behind Max now. Though highly paid people have a tendency to iron out things in the name of remaining outrageously compensated for their work, we do now have a tantalizing and rare possibility on the horizon: A championship feud between teammates who now both have data to suggest they might be the best driver on the same team.
If there's one thing we crave, it's potential mess at the highest levels possible. And this, scant though the chances might be, is a potential mess at the high levels of the sport. For best results hope Perez wins again, sends Max into a tizzy, and we get a months-long fight all the way through to fall. (Because otherwise the title race is already all but over.)
LISTEN: "No More Lies," Thundercat and Tame Impala
I don't think this needs much gussying up besides "Kevin Parker and Thundercat made a song together," but if it helps: The bassline on this will make the windows in your car pop like shudders in a gale if you get it loud enough. As a bonus to make this glossy piece of therapy session/LA studio gas even richer, watch Thundercat's interview with Zane Lowe. It's a beautiful and ripping honest kind of talk, the kind you only get when someone who's come to terms with his addiction and survived it can give with someone they clearly trust.
EAT: Zapp's Pretzel Stix. Holy fuck, I don't need these in my life, and potentially need to move out of the state and cut off my internet to avoid overdosing on carbohydrates, a thing that now might be possible with the discovery of these doom pretzels.
Zapp's already has me in a decades-long chokehold thanks to their jalapeno potato chips, the Alpha Prime of all chips, fried to the point of taking out crumbling canines if you're not ready and cut thick enough to use for eating neutron star dip. They're actually hot, though the fact that I've just said this will trigger a Louisanan in the mentions telling me how not hot they are. I'm typing this on a plane, and therefore one will burst from the overhead compartment shortly to berate my weak constitution. (They are lying! The chips are flammable, and also delicious.)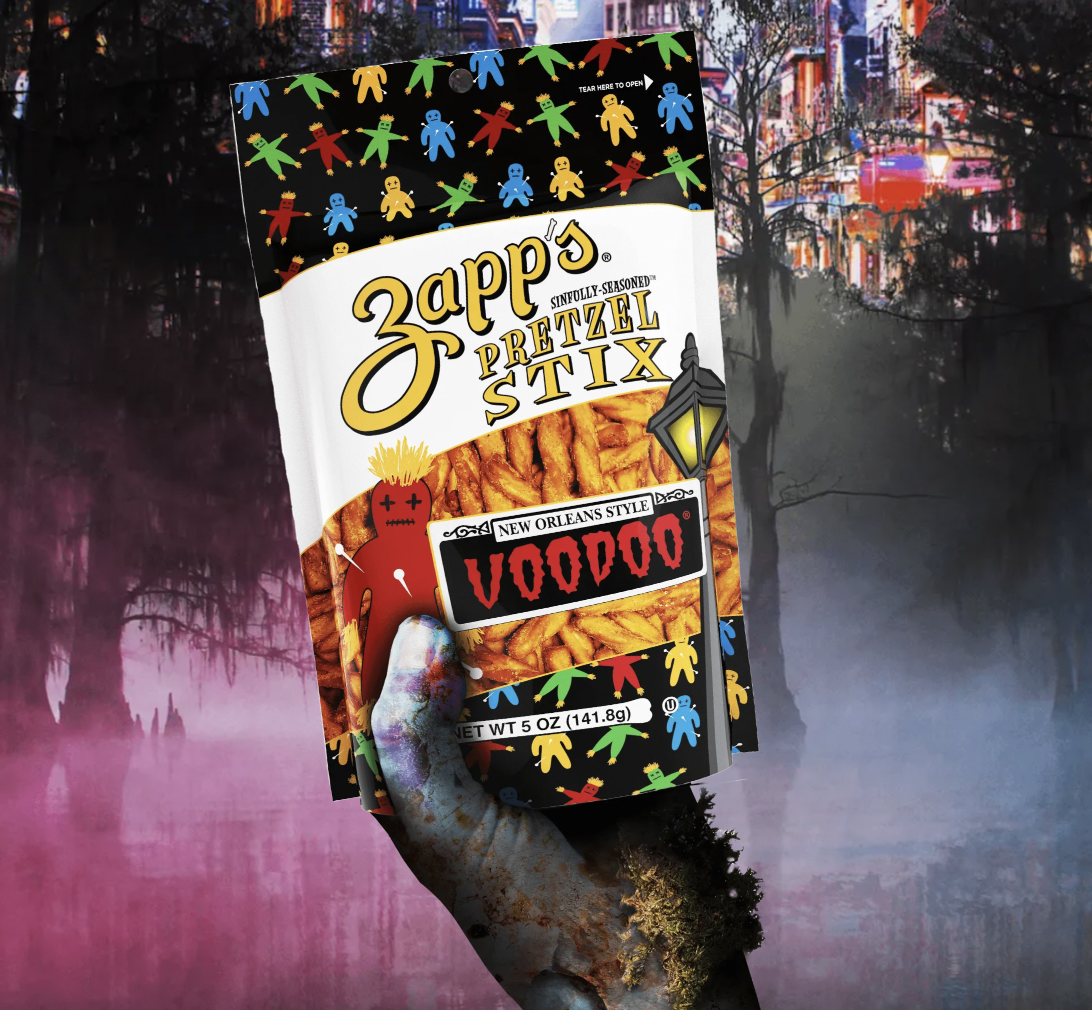 Anyway, I haven't even had these yet and know I need to change my entire life to avoid them, or at least take up distance cycling to make up the punishing caloric differential they're about to introduce into my metabolic life. I just thought about how good these would taste with beer and got mad enough to punch a hole in the window. This is Fat Kid Terrorism and I resent it. Please send me thirty crates immediately.