The Top Whatever is our ranking of, well, whatever we like to rank at the time. This week's edition: The offseason's watch list, or teams or things we're watching eagerly for either very bad, or perhaps very good reasons. It's okay to like mess, especially when that mess involves Jimbo Fisher and Bobby Petrino sharing a workspace.
ONE: TEXAS A&M. Because we're bad people, and we like mess. That mess came pre-messed going into 2022 thanks to a.) their hilariously well compensated head football coach nipping at Nick Saban publicly, and also b.) the high anxieties induced by a preseason #5 ranking and that aforementioned shadow of Jimbo Fisher's increasingly humorous pay grade.
That pre-existing mess then got properly hyper-messed in the 2022 season when the Aggies continuously juggled a series of oft-injured and inexperienced quarterbacks, lost to App State at home, struggled to score during an agonizing six game losing streak in the middle of the conference slate, and belly flopped into the nadir of losing 13-10 to a broken and headless Auburn team on the road.  
Now, the Aggies extend this messery by signing up explicitly and intentionally for more mess. The Aggies began bailing out the bilge from a 5-7 season by signing Bobby Petrino as Jimbo Fisher's first actual offensive coordinator. Bobby Petrino will be working for a control freak whose exact specialty is the thing Petrino does, and who has never employed a proper play calling OC before.
If Petrino fails, he will be supplanted and/or fired with terrifying haste. If he succeeds, then all credit for the success of the team will flow towards Petrino, a very successful head coach at one time in his career, and someone with a history of sudden and dramatic HR maneuvers, to put it kindly.  Enjoy the following completely accurate sentence: I've never seen him try to snake a job away from the guy he's working for at that moment.
I'd like to see him try. Reminder, Bobby Petrino is Bobby Petrino, and he's still not the most troublesome hire on that staff, since DJ Durkin still somehow gets jobs, and still coordinates the Aggies' defense. As in right now, in the year 2023, and likely through the 2023 season. Steve Addazio is there, too. While this is not problematic, it is for some reason extremely funny, since he adds to the "this is actually a staff full of head coaches" while also making the Aggies "a staff full of head coaches including the guy who got kicked out of their final game at Colorado State."
To be clear: This is already a mess. I'm just rubbernecking to see whether we get the full, undiscounted, Texas-size debacle we deserve out of the SEC's football program most resembling a Taylor Sheridan show.
2. GEORGIA. Look, I appreciate a Balrog. That's a Balrog right there, fangs and fire and claws and all. The Bulldogs remain a different kind of tyrant. They're not like the peak Bama, who'd shut things down in the second half, efficiently reducing the game to procedure and time-wasting so Nick could get back to recruiting ASAP. Georgia continues the beatings deep into the third quarter.
If you're going to be a mythical fire-breathing beast, at least have the decency to leave only scorch marks on the floor for spectators to goggle at in awestruck fear. Georgia does that. We applaud that, and for leaving "why doesn't Kirby get NFL calls?" as our only troll-ass response to an eight hundred day streak of beating up every one they see.
3. FLORIDA STATE. I am doing this to poison their year. They don't even know it's in the cup. Later, when their nervous system begins to short-circuit and they cough up blood AND an improbable loss to, like, Duke in early November, they won't even remember when it happened.  
4. CLEMSON. A slower, more genteel kind of impending train wreck. Clemson won eleven games this year. The Tigers, for twelve years straight, have won at least ten games a season. No one enjoys watching Clemson's recent streak of plodding excellence. Dabo doesn't enjoy people carping at him about putting up over a decade of the best football the program will likely ever enjoy.
Until last week, this set us all up for a slow pressure cooker of a storyline where Dabo slowly cooks himself under the pressure of his own legacy while fans beg him to hire exactly one offensive coach from outside the program. They'd win ten games again, miss the ACC title again, and be superb, but not good enough to accomplish any of the things Dabo has them used to achieving.
Then, Dabo hired Garrett Riley, TCU's offensive coordinator and yes, brother of USC head coach/offensive bankroll Lincoln Riley. The plot twist really isn't a plot twist: Dabo did this move repeatedly early in his tenure, hiring and firing and losing, among others, Billy Napier, Chad Morris, Jeff Scott and Tony Elliott without interrupting the program's overall success arc. (In fact, firing the current coach of the Florida Gators made them better, something Florida fans did not just read, and do not need to think about at all, nope.)
Good, solved. Right. Clemson will now be more competitive, and go back to consideration as one of the five or six best teams in the nation, and not just the king of the rest waiting just outside the top tier. All they need is for Cade Klubnik to ascend to Trevor Lawrence levels of production, the wide receivers to be as good or better than Nuk Hopkins or first-year Justyn Ross, and for the offensive line to recreate the yearly overachievement of their heyday under Robbie Caldwell.
You see how good a job Dabo has done, given what they don't have anymore, and what they need to replace it? Do you also see how huge the leap between being a respectable-to-excellent ten win team and life as a rampaging eleven-win juggernaut truly is?
Every season is Everest, and the eleventh win is the Hillary Step done without ropes or oxygen. If you have Trevor Lawrence in your party, he'll boost you all up there. If not, we get to watch you fall all the way down. Next entry may be relevant to this "QBs are magic spray for football teams" discussion.
5. ALABAMA. Bryce Young earns a serious compliment here: He may be the first quarterback to make an absolute value difference in his departure from the team in recent Alabama history.
The first Saban era featured replaceable cogs equipped with Bama Bangs and strong "future in finance and weekend color commentary duty." This is not made up: John Parker Wilson, the quarterback for Saban's first Alabama team, works at Morgan Stanley as a financial advisor, and spends his weekends as the Tide's color commentator. We could have told you this would happen before it ever did, because it was just that inevitable.
The second era is Blake Sims. It's a period of transition, and of greatness since Blake Sims started out as a scout team jack-of-all-trades, and finished as the Tide's starting quarterback in the moment between defense-first, battering ram football and the bombs-away Tagovailoa period of offense-first aggression. Blake Sims walked so Stetson Bennett could run, and with a few flips of the coin landing differently, he'd be right there with a ring, too. Greatness is Blake Sims, and every real Alabama fan knows this to be gospel truth.
The third era featured increasingly talented prospects placed into a pass-friendly spread scheme. In truth it begins with Jake Coker, who did win a ring lumbering down the field and going 25 for 30 against Clemson in the 2016 title game. But this era is the Hurts/Tagovailoa/Jones period, where Saban hired back-to-back USC coaches and the future head coach of the New York Giants as his offensive coordinators, and then replaced them with Bill O'Brien, a guy who'd been an NFL coach for three times longer than Nick Saban ever was. This meant points, downfield passing galore to an endless stream of revolving NFL first round draft pick receivers, and more titles.  
That era ends with Bryce Young, the first QB to leave an actual, verifiable hole in the depth chart in Tuscaloosa. Backup Jalen Milroe doesn't appear to be ready to start, leaving the door wide open for two incoming freshmen, Dylan Lonergan and Eli Holstein, to compete for the job. There is no alpha receiver in the lineup for obvious targets. The offensive line got outclassed by, among others, Tennessee and Auburn when it came to running the ball effectively in 2022.
And yet, there's more. Alabama quietly allowed Pete Golding, a brickbat magnet for fans looking for scapegoats for Bama (gasp!) losing two games in the regular season, to take the Ole Miss defensive coordinator job in January. That leaves Bill O'Brien as the gray eminence on staff, a thought deeply unsettling to Alabama fans who will undoubtedly shift full attention to blaming him for every mistake the inexperienced Tide QB will make this year.
They'll win ten games again, but still find a way to grumble. Put this at a low simmer type of mess in Tuscaloosa, particularly with Saban's former stable boy wrecking shop in Athens and fueling "Kirby took the fire with him" conspiracy theories.
6. OHIO STATE. Looks a lot like Alabama's extremely luxurious mess. Look at it this way, Ohio State: You've got gout, the disease of simply eating too well for your own good. The Buckeyes lost to Michigan again, a debacle not eating up 100% of the concern budget for the year, but definitely occupying a fat chunk of the pie chart representing that concern budget. That's an obsession, the offspring of passion, and losing the former would mean an absence of the latter. No would would ever want to diminish that for Ohio State, or even could.
The upsides remain heavy and obvious. Ohio State just hauled in their requisite top ten class. (Again.) They lose Stroud, but have five star Kyle McCord and four star Devin Brown waiting to take his place in an offense legitimately deserving of the Plug and Play moniker.  The defense will get better as Jim Knowles' scheme sinks in, since so much of it relies on communication between safeties, something that should get better over time. Their wide receivers are just fucking stupid, they're so good. You should be allowed to have them. It should be illegal, and someone must do something about them.
The Buckeyes just came within a hair of beating the repeat champ. That's cold comfort, but it's what we got if you're looking for positives. If you just want some potential hot mess, well, there's that, too. The lunatic fringe of Ohio State fandom called for Day's head after losing to Michigan for their first loss of the season. Ah but that's just the fringe, you say. Nope. Whole thing's made of lunatic fringe. Always has been.
7. RICE. Shouts out to rice. Not the football program, but the simple carbohydrate. Reliable, hard to fuck up, nearly idiot-proof in a rice cooker. Soaks up sauce like a safety eating in coverage, covers flaws like a shutdown corner, and hits as hard as a linebacker in the hole when you need to stretch one serving of beef broccoli into three evenly distributed and delicious clouds of saucy carbohydrate. Supports whole civilizations and never demands credit. A true grinder and asset to the team.
8. TCU. Behold a respectable but not pressure-filled preseason ranking for TCU. On the one hand, they deserve a gentle hand considering what happened in the playoff final. On the other, they might be about to hire Kendal Briles as offensive coordinator, so maybe they deserve less than nothing at all.
9. DIAN WEI. Yes, a Chinese legend for his immense strength. But consider his other outstanding legacy, too:
He was also a heavy eater and drinker, eating in huge mouthfuls and drinking in long gulps. Because of his enormous appetite, several men were required to serve him whenever he sat down for meals.
He could wield two 52 pound halberds effortlessly and beat up five men at once. He loyally served his lord, scared the living shit out of anyone who beheld him, and regularly fought ten men at once. But Dian Wei, in second century AD China, a time well before American portion sizes and corn syrup, ate so goddamn hard they had to hire a pit crew to keep him satiated. I need a time machine to take this man to a.) a soon-to-be bankrupt Golden Corral location, and b.) Monday Night Raw, where he will be crowned champion on sight.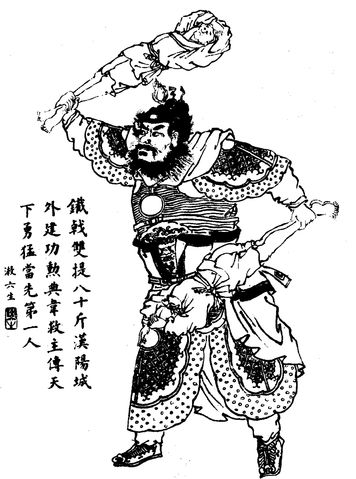 10. TENNESSEE. Enormous success, followed by a quick deflationary period of losses to Georgia and South Carolina, which was then followed by a promising bowl victory to inflate offseason expectations.  Their quarterback coming into next season, the towering Joe Milton, can throw the ball seventy yards through the air. This is also his only pass setting. Next year's team might be all go balls and quarterback scrambles, and thus more boom/bust than this year's volatile team. I cannot wait.  
11. BULGARIAN BAGS. This is the year we only get into oddball, old school workouts from warm, friendly, and accommodating places like the Balkans.
Enter the Bulgarian Bag. A Bulgarian Bag is a mean-ass, crescent-shaped sack stuffed with sand or other heavy shit that looks like the repurposed stomach of a sheep. If you buy one, it comes with a full wall poster of suggested exercises, each of which look like the worst thing you could have decided to do today, or any other day of your life.
The bag will not cooperate. In fact, I'm pretty certain it fights you in the opposite direction no matter which direction you pull or swing it in like a fussy cat being taken to the vet. Imagine working out by whipping a truculent and obese first grader around your head: This is the Bulgarian Bag workout experience. It is awful, unnecessary, and could be done in a less theatrical, less pure hardo manner if one really wanted that.
But why would you want to do a simple, boring sandbag workout when you could think to yourself "this is the heavy Satanic croissant that bred a hundred pale angry wrestlers-turned-tax-cops named Dimitar?" 2023 is the year of working out like mean wiry pensioners in tracksuits, men who will only die when the Red Star Belgrade supporters club says they can die. I can't exactly recommend getting a Bulgarian Bag. But I can't not recommend it either, since I took it up my driveway to get the mail yesterday and came down traumatized and barely holding on to a Crate and Barrel mailer in my trembling hands.
P.S. Maybe don't get the 44 pound one, like idiots would. ←it's me, I'm idiots
12. MICHIGAN STATE. Get your ass up here. Nope. Don't hide, it's too late for that. Think of Mel Tucker as the Rust Belt Jimbo, and all of this picture should slide into place here. Most of Mel's enormous contract came off the back of a dude who just finished his rookie year in the NFL playing running back for the Seattle Seahawks. The season without Kenneth Walker, Jr. featured one win over a ranked team, a 3-6 record, and happened while the cross-state rivals were busy winning the conference on the way to the playoff.
Their current recruiting class ranks 23rd. That sounds fine until a quick scan upward reveals them to be behind Mississippi State in those rankings, a team whose coach literally just died, and who didn't much like recruiting anyway. Mel's already won, and did the minute he inked a ten year contract off of one year's performance, but the job part? That's not mandatory, especially if the Spartans keep doing things like "losing to a horrendous Indiana team in triple overtime."
13. WASHINGTON. I don't think they're a mess at all. I just think they're cool, and that Michael Penix, Jr. relocating to the West Coast and becoming a passing god is a beautiful story. They score a thousand points a game, bring a whole bunch of starters back for 2023, and play deeply unscared, go-for-broke football. Superb football team, slipped deliberately into this list of rubbernecking in advance at future trouble just so I could say nice things about them.
Btw, they play in East Lansing on September 16th next season, if you want to continue feeling the previous entry's theme of "I think Michigan State is going to get annihilated on several occasions next year."
14.  OREGON STATE. Again, I'm just putting some teams in here to surprise you with the statement that "this is a fine team, they're coached with real love for the game and its details, and also they have chainsaws on the sidelines as a treat." Boise State spent two or three different coaching searches looking for the real heir to Chris Peterson and let the real one get away to Corvallis, Oregon. Any team that throws the ball like nine times and wins is a quality football team, scattershot quarterbacking be damned. Next entry is related!
15. FLORIDA. Their five-star quarterback commit, Jaden Rashada, just asked out of his commitment after someone failed to deliver on a $13 million NIL deal. That someone may or may not have been associated with the Gators' official NIL collective, something the head coach apparently didn't have under control even though that is now very much a part of a coach's job. Florida also lost badly to Oregon State in their bowl game, is trailing Georgia by something like ten full recruiting cycles, and has turned to Graham Mertz for answers at quarterback.
A younger me would be considering taking a header into a tree shredder over this, but now I accept the changing of the seasons, and also know that life will kill me one day anyway with no effort on my part, and that will be the blessed moment of release when I no longer have to care about my football team. Life is suffering, and knowing this is freedom. Go Gators.
16. LOUISVILLE/CINCINNATI. The most hilarious dyad in football right now thanks to Scott Satterfield escaping one to coach the other, and in the process kickstarting the long-teased return of Jeff Brohm to Louisville. Putting all of my chips on watching both come away slightly dissatisfied in the process, yet enjoying just enough success to make considering change a nonviable option.  
17. YOGA. It sucks, and it works. I don't feel like any conversation that doesn't acknowledge both of these needs to be entertained. Also I have to carry a stupid mat around like a child at nap time. Fuck yoga. You should do it, but also fuck it so very, very hard.
18. NOTRE DAME. Psst: They got Wake Forest legend Sam Hartman in the transfer portal. This is just between us, but they may be very likable this year. Don't fall for it! This is like the videos of "the cop who hoops" or "the cop who kids like!" They're waiting to arrest you all the same, because they are still cops.
The King's Quest V schedule announcement video is cool, though.
19. OLIVER PLATT IN THE BEAR.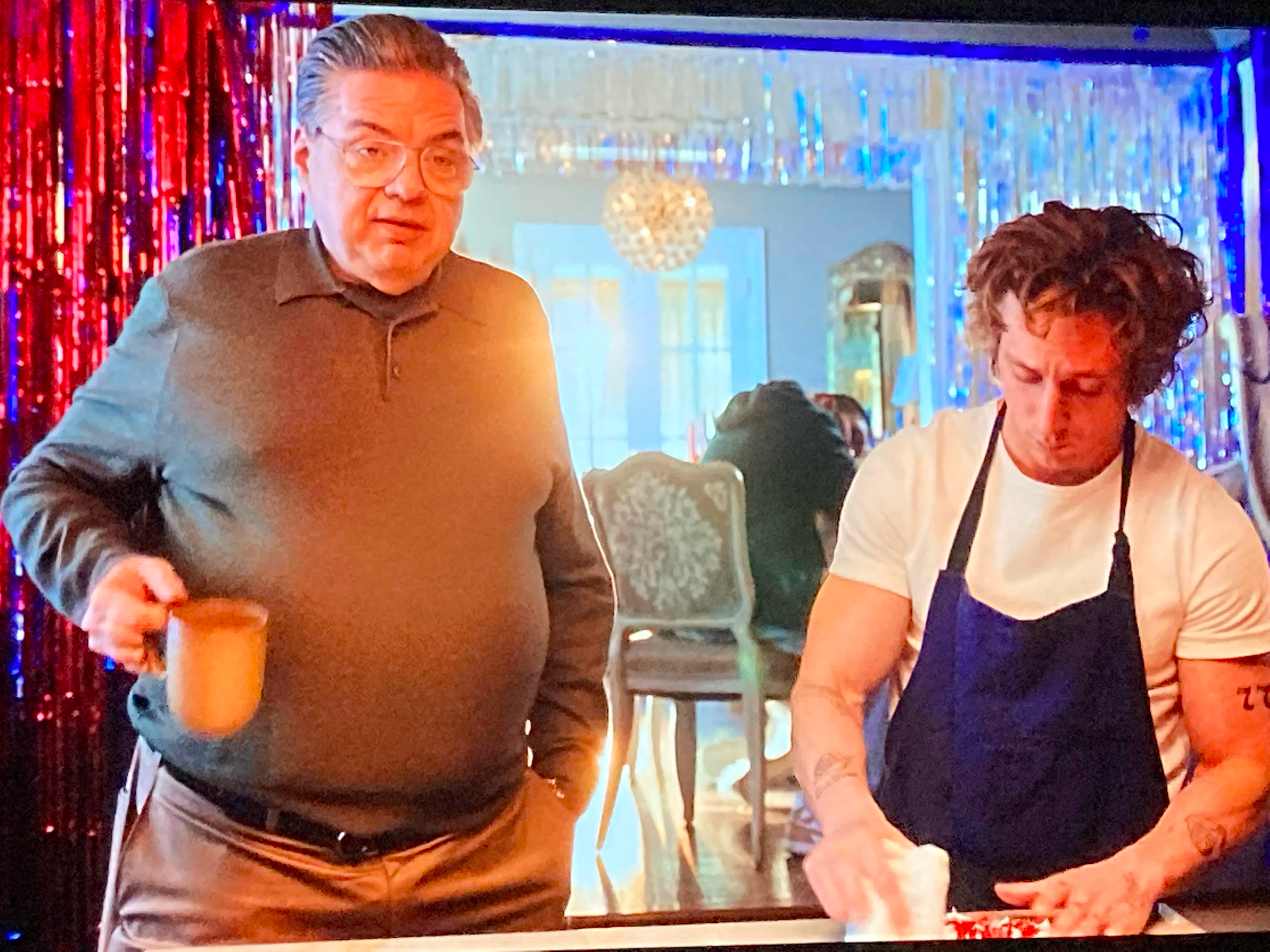 Big-ass glasses, deeply unhealthy pallor to him, schlubby as hell and yelling "THIS SUCKS" at parties with his horrible old man friends. Prone to random tangents about dreams he had about dead relatives. Always carrying a brown coffee cup. You owe him money, and he could kill you, but he won't. At least not today. Maybe today? Who knows, fella. Go Bears.
20. TEXAS. Sarkisian speed running the three year cycle of Texas football expectations — we're back, we suck again, we're back and then we suck again — within the confines of a single season might be his most impressive work to date.
21. DANHAUSEN. They put the goofy/spooky man in the New York Times, and our civilization may now make a tiny chalk mark on the wall where its high water mark occurred.
22. UTAH. Cam Rising did a promo for his return for the 2023 season where he drove into frame in Kyle Whittingham's ancient truck.
They're going to beat Florida by thirty in SLC and there is not a damn thing any of us can do about it.
23. TULANE. Hey, they beat USC in a bowl game. It's important we never, ever forget that, or that Willie Fritz has been absolute nails wherever he's gone or whatever offense he's decided to run.  
24. THE ENTIRE DAMN STATE OF ALASKA. More coastline than the rest of the United States combined, crawling with bears, stacked with huge mountains in the middle, and home to the only free-roaming bison herd in the United States. Chocked full of some of the wildest people alive, and that doesn't even count the town that likes to throw cars off a 300 foot cliff on the 4th of July.
We sleep on it being absolute chaos because half of it's frozen most of the year and sits catty-corner to Russia. But someone could set a nuke off in their kitchen trying to make a home fusion reactor out there. We might not even hear about it for a couple of decades until someone tries to track down their weird uncle Harold who had some dire opinions about the government, and who fled into the woods to collect his oil and gas dividend and fend off grizzlies for fun while ordering black market uranium off the internet.
Alaska: Alabama, but with volcanoes, frostbite, and moose.  
25. USC. Endless respect to Lincoln Riley for losing to Tulane, bleeding out points all season long, and insisting on keeping his defensive coordinator anyway because "You are paying me all this money and I will do what I want." If they're going to fire you for your mistakes, well, they might as well overcompensate you for them while you're making them."